We weld, we grind, we help clients get expert metal designs. If you have large scale structural steel substation projects or custom designs to be cut – Pro Weld's CNC plasma cutting machine can do it. Our welding team is cross-trained on most of our equipment – which includes the cnc plasma cutting table.
Pro Weld, Inc.'s welding team offers expert fabrication, with the option of CNC plasma cutting as an add-on to their welding job services.
When it comes to small metal parts, Pro Weld finds ways to offer the CNC plasma services. With every CNC cutting service performed, there is an increase in productivity. The parts that are typically hand-cut are efficiently plasma cut out of metals with Pro Weld's computer-ran CNC plasma cutting machine.
The Southern Oregon, women-owned metal company is known for its welding performance and expertise in metal fabrication. Yet, they are now cutting out a reputation with its cnc plasma cutting services. There have been discussions about adding more shifts to keep the cnc plasma table cutting for a solid 16+ hours to meet metal production and growth demands.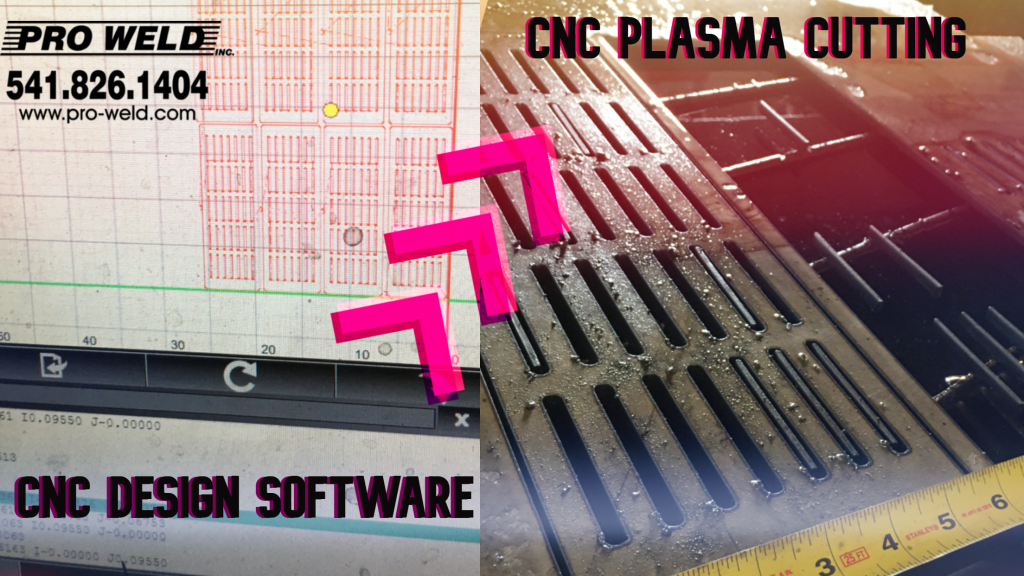 The cnc plasma table was built in house by Pro Weld's owners and welding team. The current table is the first model build at Pro Weld, which will soon be dwarfed by a much larger cnc plasma cutting table. The cnc table is color-themed: red and blue to match the company logos. The contrasting white welding shop walls, and reflective water table make for an iconic representation of the bold US American flag.
The plasma table is designed in a tank-table style. There are several key reasons for the cnc plasma to be a water table. Simply put, a cnc plasma water table reduces: heat-distortion, dust, plasma table cost, noise, arc flashes, and keeps all metal at a lower temperature. The cooler temperature helps avoids metals warping at all times.
The Pro Weld built water cnc plasma table is constructed to raise or lower water levels. This feature gives the cnc plasma operator the ability to submerge the plate by adjusting the water. This adjustable water level option is great for the various types of cutting this cnc plasma table can do.
Pro Weld utilizes the CNC plasma machine whenever it expedites metal cutting and welding fabrication production times. Our welding crew is more industrious and efficient because of the speed. The accuracy of the CNC plasma cutting table is near to impossible to mirror by hand.
"We're continuing to find innovative ways to make welding jobs efficient. Having this cnc plasma cutter has been a game changer and great tool for our welding team. We're excited about Pro Weld's continued growth." remarked Penny Oberlander, co-founder and certified welder.



The unparalleled CNC plasma cutting table allows fabricators to keep welding as the CNC machine does the intricate cuts. The minimization of metal waste and increase in material usefulness is impressive. Pro Weld's CNC plasma table is a water table.
"It's like wow – now I don't have hand-cramps. The CNC plasma cutting table is fast, precise and accurate. Each welding project is expedited with a few clicks thanks to the plasma table," stated one Pro Weld employee.
Water Table Functionality
Pro Weld, Inc. opted to fabricate their own CNC Plasma Water Table. Their welding team worked closely with co-owner Jim Oberlander to insure every aspect of the table perfectly matched Pro Weld's industrial and structural metal project demands.
The CNC cutting table can hold a 7′ by 12′ sheet of metal up to 1-1/2″ thick. All types of designs and materials have been processed on this table. In 2020 alone, Pro Weld's welding company has cut base plates, grates (as seen in above video) and other trick designs for custom welding jobs.
"Our only limit is imagination. We'll be finishing our secondary CNC plasma cutting table sometime this year. It'll be twice the size – doubling our capacity. Our welding team is stoked," says Jim Oberlander, co-owner and master fabricator of 40+ years.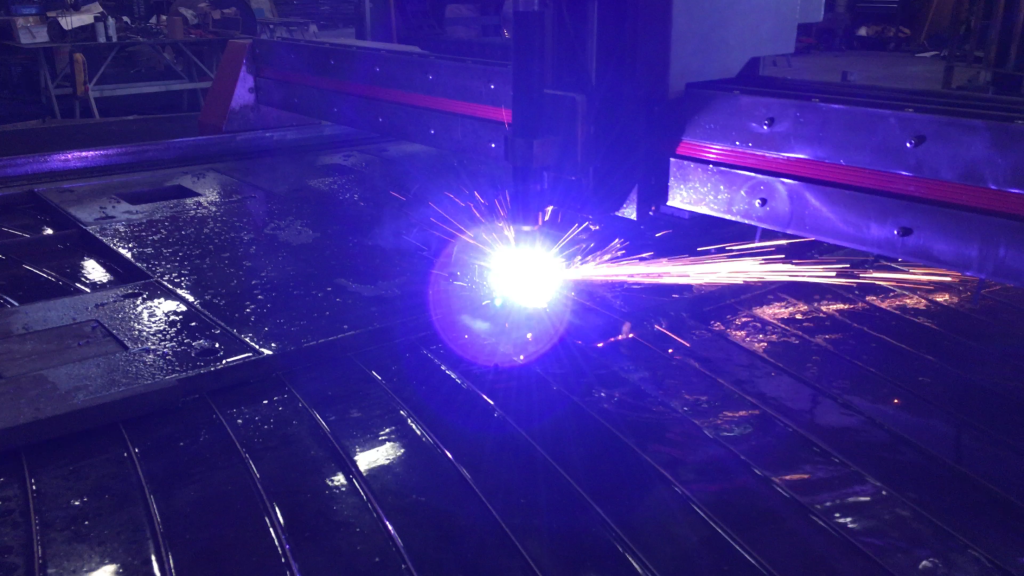 If you see to have cnc plasma table cutting performed by Pro Weld, Inc. give them a call at 541-826-1404. Otherwise, see more on our plasma here, and email us directly at info@pro-weld.com for your cnc plasma cutting metal jobs and welding projects.
In addition to the CNC metal plasma table cutting, Pro Weld offers doors, metal fabricated structures, metal pots and steel planters, cylinders carts, smoking shelters, outdoor decking, gates, handrails, substation steel structures, boom truck and crane services and metal safety bollards.
---
Enjoyed this welding related post? Read more about our favorite welding projects below:
Discover more about the welding team at Pro Weld, Inc. and the welding management company set-asides:
To know more about Pro Weld's ownership, check out the below:
Certified Welding Shop: Pro Weld, Inc. Ownership
Certified Welding Shop: Award-Winning Family Business
Certified Welding Shop: Women Owned and Operated