Covid-19 Update: Welcome to FRIDAY folks. We are here for your welding and metal needs. The coronavirus allows us to take another look at SAFETY for you. We're taking wise steps to avoid COVID-19 spread.
If you are feeling sick, call us rather than visiting. A welding expert is available at 541-826-1404 as we encourage you to please stay home if you feel ILL.
If not, we welcome walkin to our beautiful welding lobby which has more than 6′ areas for contactless discussions. Drop in to 1316 Avenue G White City, OREGON 97503 for welding shop services. We are an family-friendly, All-American welding company.
See our website to see a sample of work Pro Weld's team has fabricated. Our welding team is certified and great at problem-solving.
Metallic patina planter pots anyone? Pro Weld slams out the style on these timeless patina planter boxes. These natural colored pots are in vogue. We get it. They offer a viable way to add style, shrubbery and even room partitions.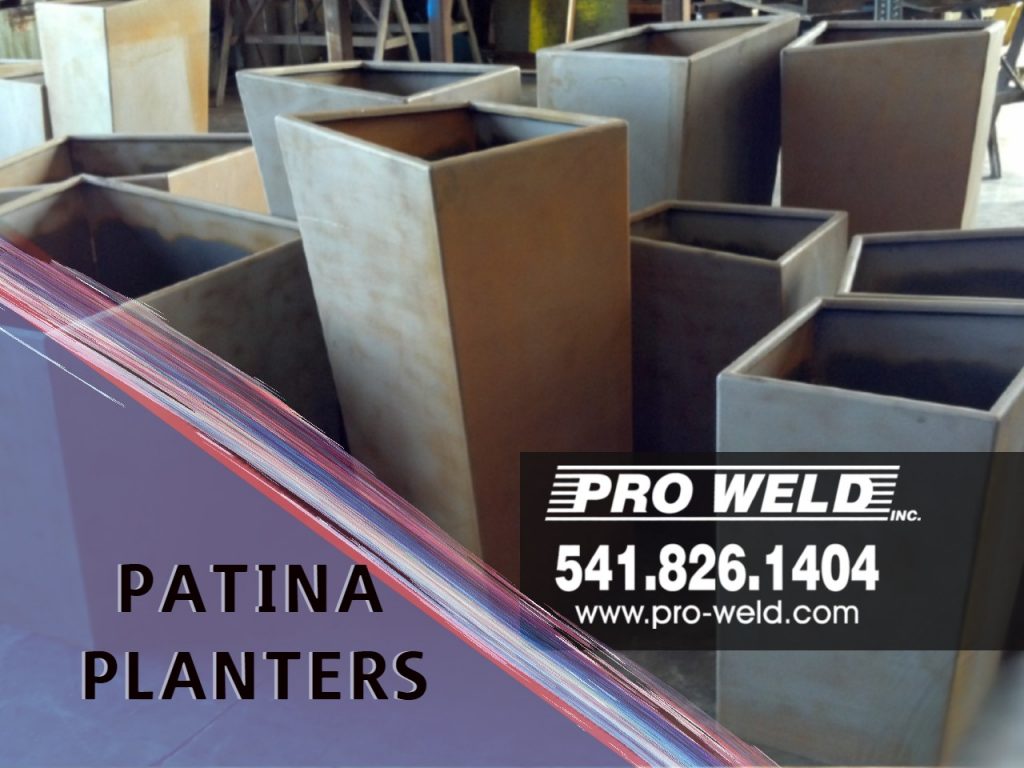 Patina pot planters reach back into ancient times. They come in all shapes. These metal planters are classy with their metallic corten aging.
Pro Welds team has been custom fabricating patina planters in for years for exclusive private estates, and as well as publicly held companies. They will take an order of one planter pot, or quantities of 500 metallic corten pots.
Providing practical metal products for gardening and design has never been this fun. The beautiful finish blends with nearly any decor. If your patio, balcony, or landscape needs a makeover, you will want to consider patina planters.
Why Metallic CORTEN?
We're glad you asked. Steel that weatherizes through an organically natural process. Steel alloys is a way of which metals weather. Corten can be written cor-ten. It is a type aversion to deterioration – while maintaining earthy yellow, brown, orange and green tones.
The natural hues and tones of the patina pots is sweet eye-candy. Stronger than terracotta, these metallic pots are stronger than you think. The mid-century planters gives a worry-free aging process to last for decades to come.
Metallic Corten Patina Plant Pot Sizes
Did you know you can order custom planter boxes from Pro Weld? Send us your dimensions and we'll begin the discussion. Pricing will vary based on material, dimension and color changes.
We now offer our top-of-the-line, best seller flap discs: http://pro-weld.com/mercer-abrasives-flap-discs/ to order call 541-826-1404.
http://pro-weld.com/excellence-in-metalwork-certified-welding
Welding company owners' coronavirus post: http://pro-weld.com/news/covid-19-statement-by-pro-weld-owners/
http://pro-weld.com/certified-crane-rental-services-expert-rigging/
http://pro-weld.com/work/electrical-substation-structural-steel-rfqs/
http://pro-weld.com/work/substation-steel-structuressubstation-steel-structures/
http://pro-weld.com/work/cnc-plasma-cutting-services/
www.pro-weld.com/news
http://pro-weld.com/about-pro-weld-fabrication/